SALON HOURS: Tuesday thru Friday 8-5 (Some Monday appointments when available)
541-440-0432

Grooming by appointment only with walk-in nail trims welcome at any time

WE DO NOT USE HEATED DRYERS
*All prices dependent on coat length and condition
*All pets must be current on rabies vaccine
Small Dog Groom
$40-$50

Small Dog Bath only
$20-$30

Medium Dog Grooming
$50-$60

Large Dog Groom
$60-$80

Large Dog Bath only
$40-$60

Extra Lg Dog Groom
$80-$150

Extra Lg Dog Bath only
$60-$100

Cat Grooming starts at $50 and up

Cat Bath Only start at $40

FULL GROOM INCLUDES:
Clip, bath, dry, nails, anal glands and ear cleaning.

ADDITIONAL SERVICES at additional fee:
Teeth brushing, flea shampoo, medicated shampoo, dremel nail trim.

*Difficult dogs can carry an extra fee of $10-$20

If dog is extremely matted and requires extra time for comb-out, there could be an extra fee of $10-$30
​​​​​​​
WE DO NOT DO SKUNK BATHS - But we do have a great home recipe that can help should your dog get too curious about skunks.
1 quart Hydrogen Peroxide

1/4 cup baking soda

1-2 teaspoons of Dawn dish soap (Can add a teaspoon of vinegar if desired)

Mix well and apply to DRY dog.

Rinse well! May need to be repeated a time or two.
JANET worked for Baileys back in 1969 and joined us again in December of 2012. An easy going attitude makes her a joy to be around. With over 45 years of grooming experience, it's apparent that Janet's love for animals plays a strong role in doing what she does. She reports, " I enjoy working on a dirty matted animal and making it clean and comfortable".
Trail riding, camping, gardening, and reading are just a few of the things she likes doing in her free time. She has 2 Border Collies, 2 cats, and 2 horses.
FAVORITE SAYING/QUOTE: Do what is best for the animal.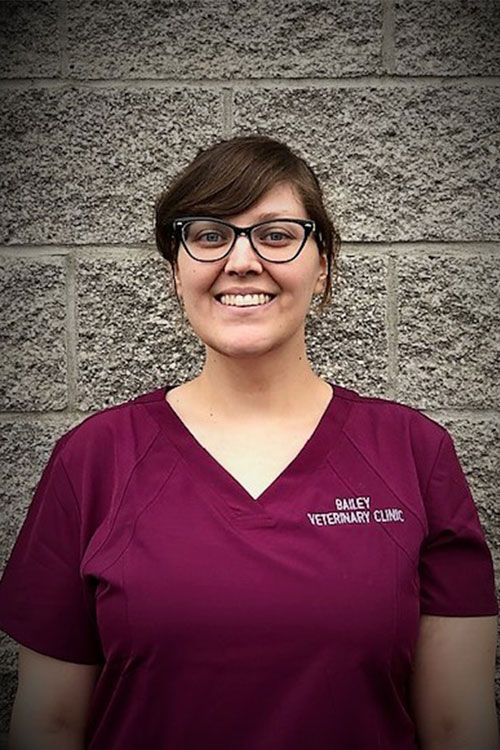 Starting out the new year with a new groomer! HAILEY joined our grooming department in January of 2019 and we couldn't be more excited! With her friendliness and bubbly personality, it's no wonder why she does so well with all of the animals she grooms. Her fur family includes a fat orange cat named Tidus and Maiden, her chi-weenie.
Outside of the clinic, Hailey and her husband enjoy hiking and enjoying live music. When she is not trying to befriend every animal she sees, Hailey loves to read, play video games and knit. When asked what she loves most about her position she reports, "I love how super fun the job is and it makes my soul smile"