SALON HOURS:
​​​​​​​Tuesday thru Friday 8-5
541-440-0432

Grooming by appointment only with walk-in nail trims welcome at any time

WE DO NOT USE HEATED DRYERS
*All prices dependent on coat length and condition
*All pets must be current on rabies vaccine
Small Dog Groom
$45-$55

Small Dog Bath only
$25-$35

Medium Dog Grooming
$55-$65

Medium Dog Bath only
$35-$45

Large Dog Groom
$65-$85

Large Dog Bath only
$45-$65

Extra Lg Dog Groom
$95-$200

Extra Lg Dog Bath only
$80-$150

Cat Grooming starts at $65 and up

Cat Bath Only start at $50

FULL GROOM INCLUDES:
Clip, bath, dry, nails, anal glands and ear cleaning.

ADDITIONAL SERVICES at additional fee:
Teeth brushing, flea shampoo, medicated shampoo, dremel nail trim.

*Difficult dogs can carry an extra fee of $10-$20

If dog is extremely matted and requires extra time for comb-out, there could be an extra fee of $10-$30
WE DO NOT DO SKUNK BATHS - But we do have a great home recipe that can help should your dog get too curious about skunks.
1 quart Hydrogen Peroxide

1/4 cup baking soda

1-2 teaspoons of Dawn dish soap (Can add a teaspoon of vinegar if desired)

Mix well and apply to DRY dog. Leave on for as long as possible up to 2 hours...

Rinse well! May need to be repeated a time or two.
JANET worked for Baileys back in 1969 and joined us again in December of 2012. An easy going attitude makes her a joy to be around. With over 45 years of grooming experience, it's apparent that Janet's love for animals plays a strong role in doing what she does. She reports, " I enjoy working on a dirty matted animal and making it clean and comfortable".
Trail riding, camping, gardening, and reading are just a few of the things she likes doing in her free time. She has 2 Border Collies, 2 cats, and 2 horses.
FAVORITE SAYING/QUOTE: Do what is best for the animal.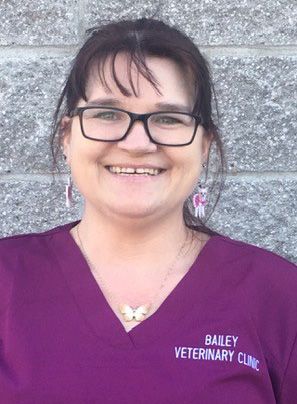 JENNY came to us in August of 2019 with 5 years of grooming experience and a great attitude. She especially loves grooming dogs and enjoys their companionship. Time away from the grooming salon includes trips to the coast, camping and spending time with family.